Plans to widen Beltline Highway debated at River Road community meeting
On February 14, 2022, the River Road Community Organization (RRCO) hosted a discussion of plans to widen Beltline Highway between Delta Highway and River Road.

BEST executive director Rob Zako noted that Eugene, unlike communities such as Corvallis and Albany downriver, has significant development on both sides of the Willamette River but only four bridges for motor vehicles: the Interstate-5 Whilamut Passage Bridge, the Ferry Street Bridge, the Washington/Jefferson Bridge, and the Beltline Bridge.
Zako also that although the Oregon Department of Transportation (ODOT) has secured ​$5 million for engineering and environmental study of the Beltline project, funding for construction has not yet been identified.
Indeed, the recently adopted Central Lane Regional Transportation Plan anticipates construction of the a new local arterial bridge from Bridge Beaver Street to Delta Highway by the year 2029 for an estimated cost of $118.8 million. On the other hand, widening of Beltline from River Road to Coburg Road is not estimated to be completed until the year 2045 for an estimated cost of $685 million (2021 dollars).
Finally, Zako explained that to secure federal and state funding for the project there would need to be strong political support from key local, state and federal leaders not just in Eugene but across Lane County. A generation ago, the I-5 / Beltline Interchange project enjoyed such political support and was ultimately completed in phases.
By comparison, the largest federal grant Congressman DeFazio recently announced was a mere $19 million to improve Franklin Boulevard.
During the community meeting, Zako joined ODOT Lane County Area Manager Frannie Brindle and City of Eugene Transportation Planning Manager Rob Inerfeld in explaining the project.
Patrick Kerr from the Santa Clara Community Organization and Kevin Reed from the Northeast Neighborhood spoke in favor of the project; Mark Robinowitz and Jan Spencer spoke against. The community meeting concluded with questions and answers.
Built in the 1960s, the Randy Papé Beltline Highway from River Road to Delta Highway is one of the most congested roadways in the Eugene/Springfield area. To build on the Beltline Facility Plan (2014), ODOT is developing concepts to improve safety and travel times on the Beltline Highway from River Road to Delta Highway.
The Beltline Facility Plan recommends several projects to improve safety and mobility in this area. Together, these projects would widen Beltline Highway to three lanes in each direction from River Road to Delta Highway, replace the River Avenue/Division Avenue interchange, and add a new local bridge north of the highway. The projects could be constructed in phases or as separate projects.
Current work on the environmental study is estimated to be completed in Spring 2022.
Watch the community meeting on YouTube.
Read a summary from Eugene Community Newswire.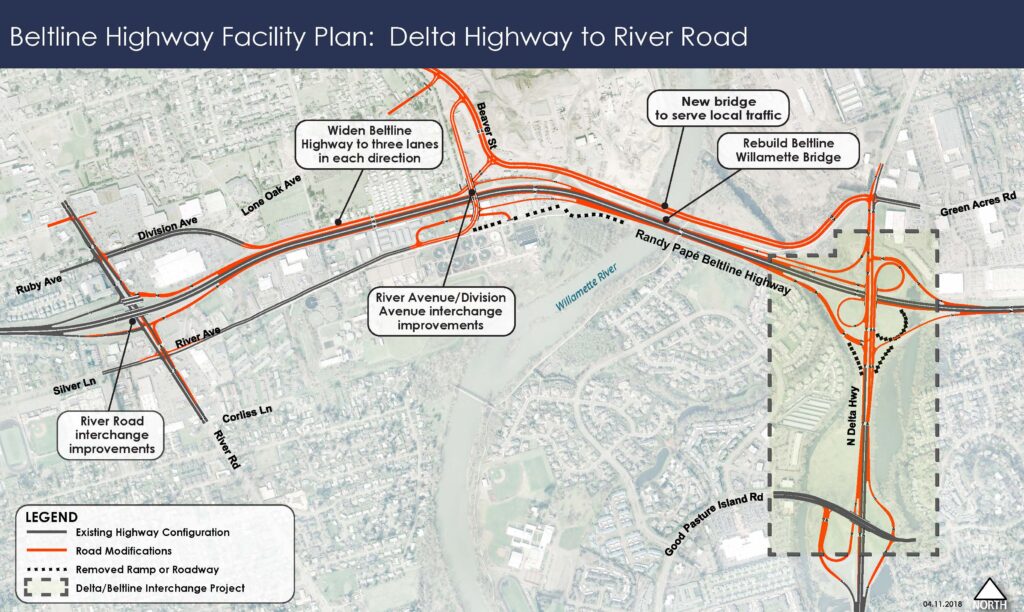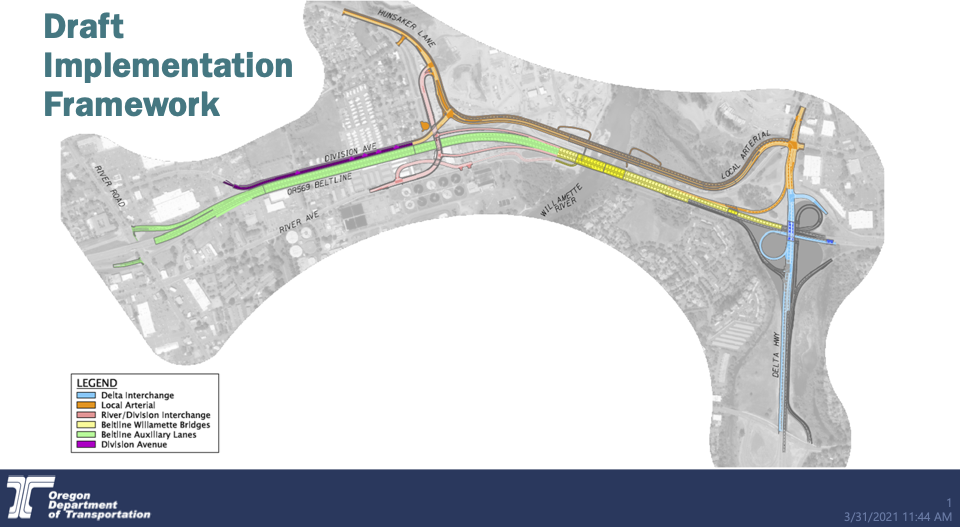 ---
Resources:
See also: