With support from BEST, Eugene and LTD give green light to MovingAhead
This week with the support of BEST and our partners, the Eugene City Council followed by the Lane Transit District Board of Directors gave the green light to pursuing investments in "complete streets" to improve safety for everyone and to encourage more people to walk, bike, or ride the bus, thereby reducing traffic for those who drive.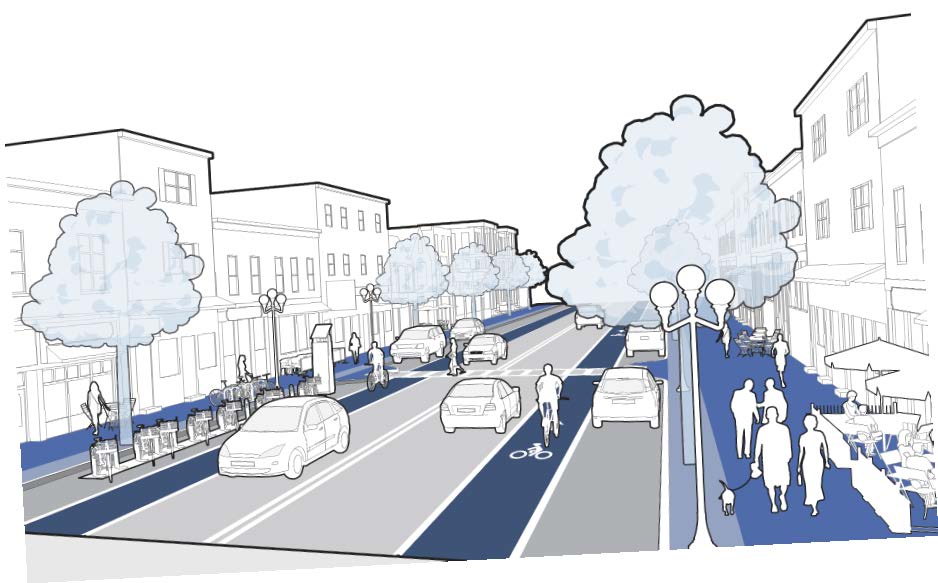 A decade ago, Lane Transit District's plans to extend EmX bus rapid transit to west Eugene were on life support as a small but vocal group of opponents ran a highly visible lawn sign campaign. After years of study, it looked like the Eugene City Council would reject the project, and with it $95 million in federal and state funding.
In response, a diverse group of community leaders came together as Better Eugene-Springfield Transit. At a public hearing on September 24, 2012, BEST turned out 40 people to testify to the Eugene City Council in support of West Eugene EmX. Two days later, the Council voted 7-to-1 in favor of the project.
Earlier this week, there was little opposition to MovingAhead. The Eugene City Council (6-to-1, Mike Clark opposed, Greg Evans delayed but in support) followed by the LTD Board of Directors (unanimously) approved pursuing investments along not just one but four corridors!
River Road: EmX
Highway 99: Enhanced Corridor
Martin Luther King, Jr. Boulevard: Enhanced Corridor
Coburg Road: Enhanced Corridor — after further outreach and study
EmX, short for Emerald Express, is LTD's version of bus rapid transit, including specialized green buses with doors on both sides and stations that enable level boarding.
"Enhanced corridor," a lesser level of investment, does not include EmX buses and stations but may include some other bus rapid transit elements, for example, adding bus pullouts and giving buses a head start at traffic signals to keep buses out of traffic.
A wait-and-see approach is being taken for a fifth corridor:
30th Avenue to Lane Community College: No Build — at least until other studies are completed
Part of the difference between a decade ago and today is a growing appreciation by the community that we need to invest in "complete streets" for everyone, whether you walk, bike, ride the bus, or drive. It also helps that fears around West Eugene EmX proved to be unfounded.
Over the last decade, BEST has grown in reach and influence. Today with an updated name, Better Eugene-Springfield Transportation is building a successful community by bringing people together to promote transportation options, safe streets, and walkable neighborhoods.
BEST believes we are better when we speak and act together. We convene community leaders. We do our homework. And we look for win-win solutions.
Two and a half years ago after extensive analysis and discussion, BEST concluded that "Enhanced Corridor" alternatives PLUS additional actions were the most cost-effective way to improve some of Eugene's busiest streets.
Today, after discussions with community leaders with the Eugene Area Chamber of Commerce, 1000 Friends of Oregon, Better Housing Together, the League of Women Voters of Lane County, neighborhoods, and others, we concluded that a middle approach of not too little investment but also not too much is still the most prudent.
BEST president Alexis Biddle and Eugene Area Chamber of Commerce CEO Brittany Quick-Warner summarized this measured approach in a guest viewpoint in The Register-Guard.
Although we have questions about how MovingAhead will be implemented, these can be answered during the sequel.
Now is the time to step up to compete for new federal transportation funding that will be available for only a short time. Like Rome, better transportation options in our community won't be built in a day. We need to seize opportunities to make prudent, incremental progress, continuing to talk and learn from the past as we do.
BEST thanks our City of Eugene and LTD representatives for continuing to approve taking steps toward better transportation options for all. We thank the MovingAhead team, who for 7 years have worked diligently to navigate differing local opinions and complex federal requirements to bring the community to this exciting milestone.
BEST looks forward to continuing to support smart transportation investments in our community in the coming years.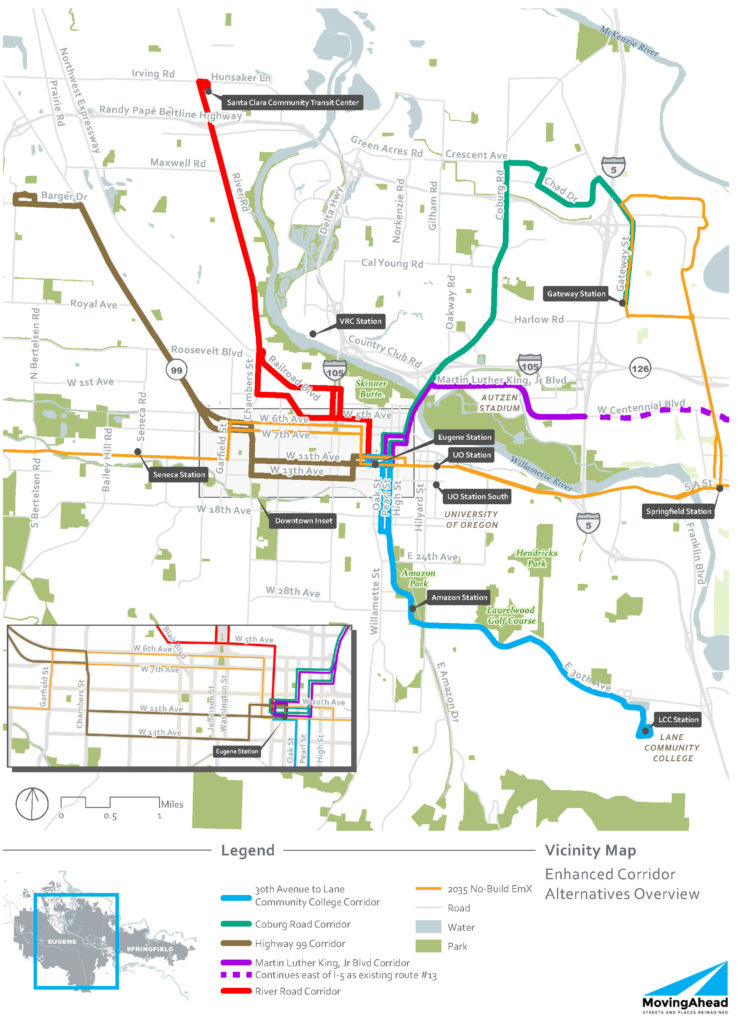 See also
Further reading