2020 BEST Awards to Eugene transportation project, Downtown Springfield, and Springfield planner
EUGENE (June 24, 2020)—Better Eugene-Springfield Transportation recently presented awards to the Amazon Active Transportation Corridor, Downtown Springfield, and Springfield Transportation Planner Emma Newman.
Inspired by the Oscars and affectionately known as the "BESTies," the annual BEST Awards recognize excellence in improving the quality of transportation in the Eugene-Springfield area and beyond.
Amazon Active Transportation Corridor
The Amazon Active Transportation Corridor (video) won the Transportation Innovations Award, recognizing new approaches for improving the safety, practicality or enjoyability of transportation options. This City of Eugene project focused on advancing connectivity for people walking and bicycling. It includes the region's first physically protected two-way bikeway and diagonal bike signal. Begun in 2012, it is the southernmost portion of the "Ridgeline to River" path concept, which will eventually connect the Ridgeline Trail and Spencer Butte in South Eugene to the Ruth Bascom Riverbank Path and Willamette River.
Many aspects of the project show attentiveness to and care for how people move through space, such as the diagonal bike signal and additional crosswalks included in the project's design. Eugene Transportation Planner Reed Dunbar explained, "When you observe how people are actually using that space, invariably they end up going diagonally. We asked ourselves, why can't we build something that actually allows folks to do that safely?"
Project Partners
Project Manager: Bryan Root
Project Planner: Reed Dunbar
Project Inspector: Litahni Harlow
Project Construction Lead: Andrea Brown
City Signals Operations Team: Andy Kading, Bret Jones, Mike Ferchland
Prime Contractor: Wildish Construction
Sub-Contractors: SPM (Stripers), Lantz Electric
Special thanks to South Eugene Neighbors for convening discussions during project development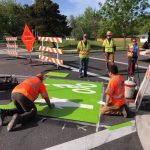 Also recognized as finalists for the Transportation Innovations Award were local electric vehicle maker Arcimoto, the EmGo downtown shuttle service, and Lane Transit District's TouchPass electronic fare system.

Downtown Springfield
Downtown Springfield won the Walkable Neighborhoods Award, recognizing achievement designing or building neighborhoods where basic services are within walking distance. The area has seen a wave of rejuvenation recently, thanks to local partners and leadership in the Springfield community. Masaka Properties LLC, run by David Loveall and Bob Miller, redeveloped over 17 living spaces and seven commercial spaces in the Downtown Springfield area of Main Street in the last few years, bringing in new businesses and renters and breathing life into a space with world-class restaurants and neighborhood markets among urban loft living.
"The whole vision was just to create a community where people could, like most urban communities, have the same services that are available and needed for residences," Loveall explained. "It was really a privilege and a pleasure for us to have the opportunity to bring that community back to life and create the environment of walkability and livability that we dreamed this place could always be."
Thanks To
Springfield community & voters
businesses investing in the area
Springfield Chamber of Commerce
City of Springfield
Springfield School District
Springfield Utility Board (SUB)
Willamalane Parks and Recreation District
Springfield Renaissance Development Corporation
NEDCO
St. Vincent De Paul
Springfield Public Library
Lane Arts Council
Springfield Arts Commission
Wildish Community Theater
Emerald Arts
Travel Lane County
Lane Transit District
ODOT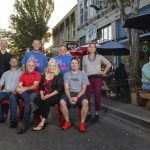 Also recognized as finalists for the Walkable Neighborhoods Award were the 959 Franklin student high-rise apartments near the University of Oregon, the Crescent Village/The McKenzie mixed-use development in north Eugene, and the Plumley Green housing cluster in south Eugene.

Emma Newman
Emma Newman won the Transportation Heroes Award, recognizing people acting above and beyond the call of duty to improve the quality of transportation. Beginning as a transportation planner for the City of Springfield in 2015, Newman has made great strides in advancing the goals of the Springfield Bicycle & Pedestrian Advisory Committee, working to implement the Springfield Transportation System Plan, collaborating with regional partners and engineering staff to fund and deliver transportation projects, and mentoring interns. She volunteers as a member on the Oregon Bicycle & Pedestrian Advisory Committee.
"To be an effective public servant is to figure out how to deliver projects, collaborate with others to move things forward, and produce results that tangibly improve people's lives in our community," said Newman.

Also recognized as finalists for the Transportation Heroes Award were Springfield Safe Routes to School Coordinator Laughton Elliott-DeAngelis, the Friendly Area Neighbors Transportation Team, and Lane County Deputy Sheriff Tom Speldrich.
About the BEST Awards
A local nonprofit founded in 2012, BEST is building a successful community by bringing people together to promote transportation options, safe streets, and walkable neighborhoods. It is led by 50 community leaders on its boards of directors and advisors.
For the 2nd annual BEST Awards, community members submitted almost 50 nominations in different categories.
Originally planned as a dinner celebration and electric vehicle show on March 17 at Lane Community College, the COVID-19 pandemic forced the event to be redesigned as a series of three online live-streaming programs.
Congratulations to all the lucky viewers who won gifts in our raffle prize drawings!
Program videos, music playlists and presentation slides including trivia questions are posted online:
---