BEST » About » NEST » Whiteaker Street Library
Whiteaker Street Library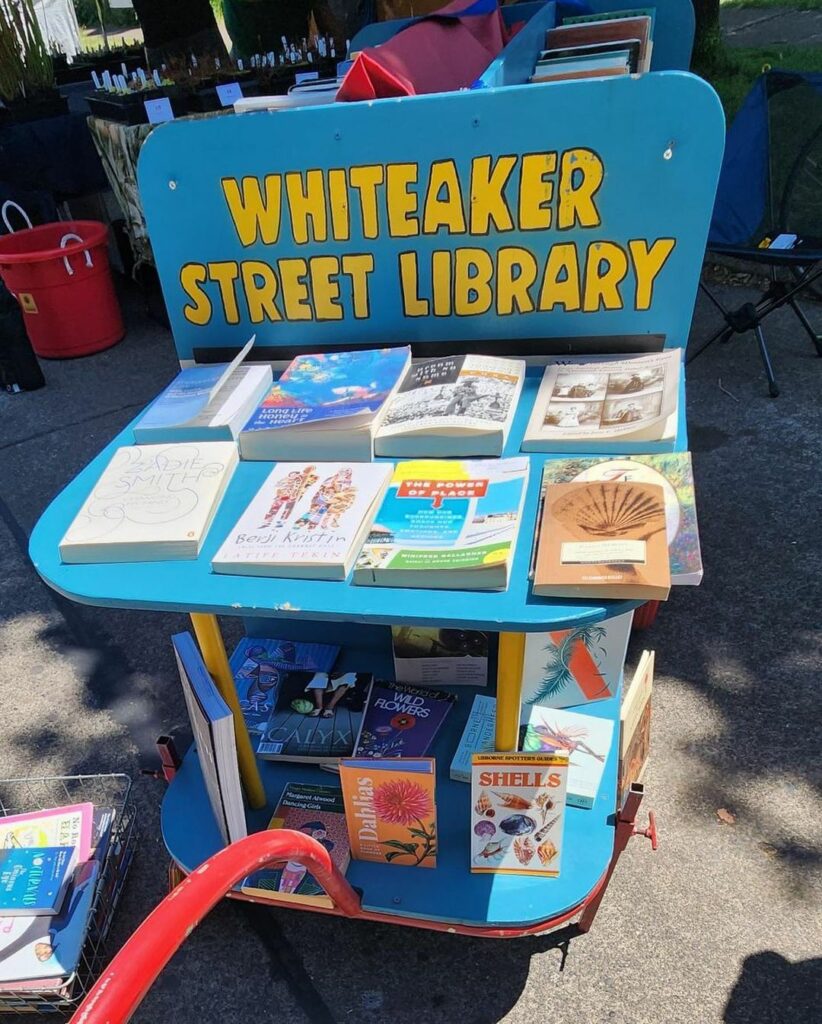 The Whiteaker Street Library is a bike library supplying revolutionary and BIPOC literature to Whiteaker neighborhood that believe in giving space to lesser know writers.
It was created in 2017 by Celia Easton Koehler and is now run by Desirée Braziel. Spring 2023 is Desirée's third year running the library after adopting it from the previous operator who moved out of town.
Desirée explained that she was approached by the previous library operator, Hana Schanilyn, to run the library because she's into bikes and helping people. "I wanted a sustainable form of activism and thought having it be on bicycles and getting books to people is a really fundamental way to change people's minds."
Desirée was given the books and cart when Hana moved out of town, and then began work on categorizing all of the books in her shed. She made a spreadsheet of the books, labeling them by categories such as BIPOC authors, female writers, radical literature, instructional texts (how to do permaculture, multilingual books for kids, etc.), and more.
After organizing and categorizing the books, Desirée created library cards that people visiting the cart could put their contact information on in order to make it easier for books to be rented out and returned to the Whiteaker Street Library for others to check back out.
Desirée considers the most important part of the Whiteaker Street Library to be lifting up books that haven't been in the spotlight as much as more recognized literature. "[The Whiteaker Street Library gets] radical literature into the hands of people because it's so small that it can have juicy content. Whereas when you walk into the Eugene Public Library, everything is there, from the classics to contemporary writers. Having an area where other famous playwrights and authors who don't have as much as a spotlight is good."
When it comes to where you can find the Whiteaker Street Library, it will most likely pop up at Equiano Coffee at 300 Blair Boulevard every other Saturday, and on Sundays at the Whiteaker Community Market during market season from May through mid-October.
The Whiteaker Street Library is a fiscally sponsored project of BEST.
Further reading
External links