Oregon to spend at least 15% of federal safety funds for vulnerable road users
Under the Bipartisan Infrastructure Law (BIL), a.k.a. the Infrastructure Investment and Investment Act (IIJA), states—including Oregon—where 15% or more of traffic deaths are people outside vehicles are required to spend 15% or more of Highway Safety Improvement Program (HSIP) funds on vulnerable road user safety.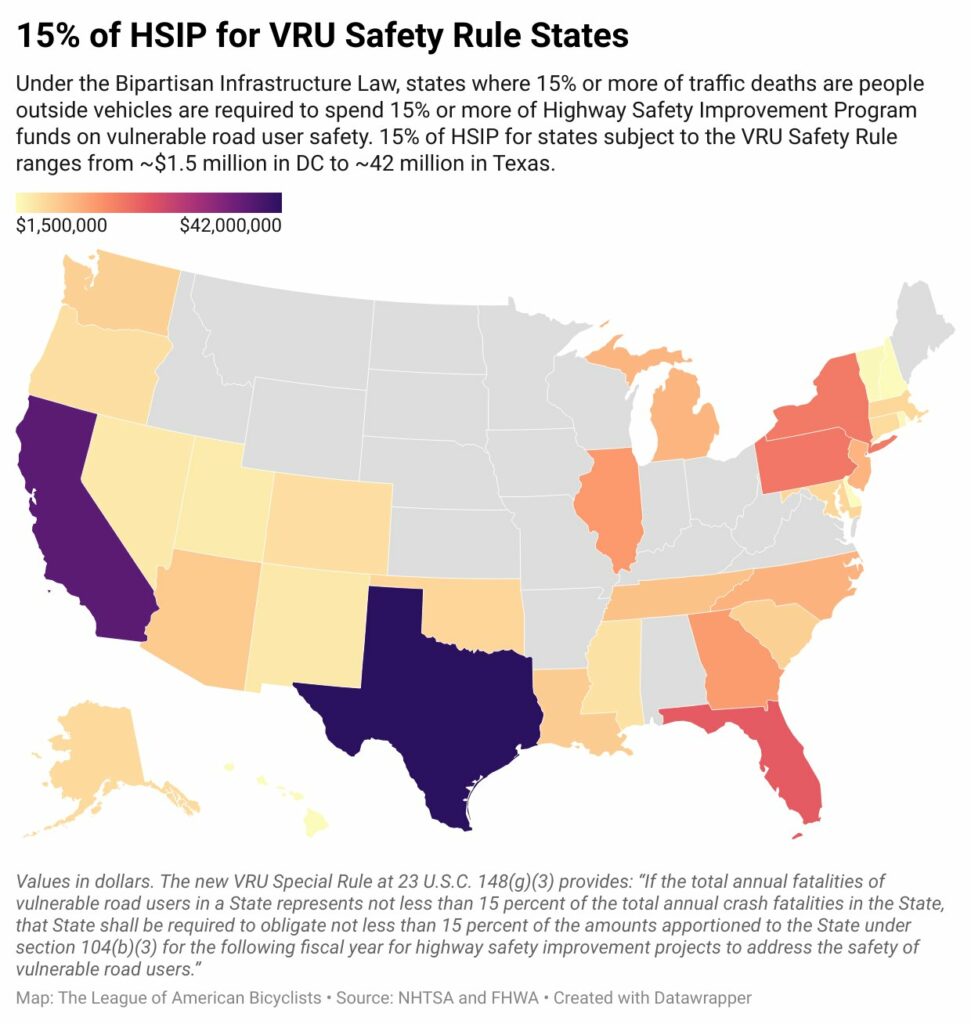 ODOT subject to new federal Vulnerable Road User Safety Special Rule
Source: ODOT
According to Susan Peithman, "In 2019, 19.4% of traffic deaths in Oregon were people outside of vehicles. Under the Bipartisan Infrastructure Law, any state where people outside vehicles make up 15% or more of traffic deaths is required to spend 15% or more of Highway Safety Improvement Program funds on projects to improve non-motorized user safety. Oregon should prepare to implement this requirement and use the required Vulnerable Road User Safety Assessment to engage its district offices, localities, and other partners."
Peithman is the former Active Transportation Policy Lead for the Oregon Department of Transportation (ODOT) and has a long career of promoting non-motorized forms of transportation. She now serves as Policy and Implementation manager for the Public Transportation Division.
Peithman is pleased with the results but focused on the potential for improvements, especially with the $90 million in federal flexible funds set aside for bike/ped investments.
"We have opportunities in front of us with the higher level of federal funding approved by our commission for Safe Routes to School and our new Pedestrian and Bicycle Strategic and Great Streets programs," she said. "This is great — but more is needed to create a well-connected network of sidewalks, bicycle facilities and public transportation access across Oregon so people can move in and between communities without needing a car."
Recently, ODOT's Pedestrian and Bicycle program completed an active transportation needs inventory that pinpoints the highest priority areas for new investments. Criteria used in ranking sites across the state includes crash history and risk factors, bicycle level of traffic stress, equity, access to transit and more.
FHWA announces changes to Highway Safety Improvement Program (HSIP), including Vulnerable Road User Safety Special Rule
Source: FHWA
In guidance issued on February 2, 2022, the Federal Highway Administration (FHWA) outlined several changes to its Highway Safety Improvement Program (HSIP) that can help state, local, and tribal transportation agencies save lives on the roads and bridges they own and operate. The HSIP is one of the most important federal programs for transportation agencies in their efforts to protect all road users, and the Bipartisan Infrastructure Law bolsters it with an infusion of additional funds. HSIP funding levels from 2016 to 2020 under the Fixing America's Surface Transportation (FAST) Act totaled $11.5 billion. Under the Bipartisan Infrastructure Law, HSIP funding from 2022 to 2026 will increase significantly to $15.6 billion.
"FHWA's goal is to help state and local transportation agencies across the country deliver projects that make streets, highways, and bridges safe and accessible for all users," said Deputy Federal Highway Administrator Stephanie Pollack. "Under the President's Bipartisan Infrastructure Law, states now have more flexibility and funding to make highway safety improvements."
Consistent with the National Roadway Safety Strategy, FHWA recommends that HSIP funds be used to incorporate a more data-driven, holistic and equitable Safe System Approach to roadway safety that builds in redundancies so if one element of a transportation system fails, other elements provide protection to save lives and prevent serious injuries on our roads.
The HSIP places a focus on infrastructure safety improvements, and under the Bipartisan Infrastructure Law, states now have more flexibility to use up to 10 percent of their HSIP funds for "specified safety projects" that include non-infrastructure safety projects such as public awareness campaigns, research, automated traffic enforcement systems, emergency services, and efforts to protect children such as Safe Routes to School activities.
The FHWA guidance issued today also implements the provisions of the Bipartisan Infrastructure Law that will help vulnerable road users who are considered to be most at risk for being involved in traffic crashes that result in fatalities. These road users include people who walk, bike, and use personal conveyances. To protect them, the new law adds a Vulnerable Road User Safety Special Rule to the HSIP. Under the rule, if vulnerable road users make up 15 percent or more of the total number of fatalities in a state in a given year, the state is required to dedicate at least 15 percent of its HSIP funds the following fiscal year to projects that address the safety of these road users. Additionally, the new guidance incorporates legislative changes to permit 100% Federal funding for certain pedestrian and bicyclist projects.
U.S. Transportation Secretary Pete Buttigieg Announces Comprehensive National Roadway Safety Strategy
Source: USDOT
On January 27, 2022, U.S. Department of Transportation Secretary Pete Buttigieg announced the federal government's new comprehensive National Roadway Safety Strategy (NRSS), a roadmap for addressing the national crisis in roadway fatalities and serious injuries. Almost 95% of the Nation's transportation deaths occur on its streets, roads, and highways. While the number of annual roadway fatalities declined for many years, progress plateaued over the last decade and now alarmingly fatalities have risen during the pandemic. The NRSS provides concrete steps that the Department will take to address this crisis systemically and prevent these tragic and avoidable deaths and serious injuries. Bolstered by historic funding included in President Biden's Bipartisan Infrastructure Law, the NRSS is the first step in working toward an ambitious long-term goal of reaching zero roadway fatalities.
"We cannot tolerate the continuing crisis of roadway deaths in America. These deaths are preventable, and that's why we're launching the National Roadway Safety Strategy today – a bold, comprehensive plan, with significant new funding from President Biden's Bipartisan Infrastructure Law," said U.S. Transportation Secretary Pete Buttigieg. "We will work with every level of government and industry to deliver results, because every driver, passenger, and pedestrian should be certain that they're going to arrive at their destination safely, every time."
The Department, as part of the NRSS, is adopting the "Safe System Approach," which acknowledges both human mistakes and human vulnerability, and designs a redundant system to protect everyone by preventing crashes and ensuring that if they do occur they do not result in serious injury or death. The Department will use a five-pronged model to address safety: safer people, safer roads, safer vehicles, safer speeds and post-crash care. And importantly, the NRSS recognizes that reducing traffic fatalities will take sustained and concerted action from everyone across all sectors and all levels of government.
Further reading
External links